Giraffe Safari Gift Card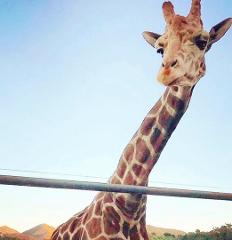 This selection is for a gift card purchase for a Giraffe Safari Tour. The gift card will be valid for 365 days following the purchase.
The Giraffe Safari is a fun-packed afternoon that shows off the best of Saddlerock Ranch's quirky spirit. Embrace your adventurous side—this tour is not to be missed!
Classic wine tasting meets a wild view on the Giraffe Safari, where you'll enjoy the best of area wines and Saddlerock Ranch's amazing scenery and wildlife. Two wine tasting stops with 3 wines each: 3 whites and 3 reds.
Stop and feed the animals, including the retired Hollywood star, Stanley the Giraffe! Light snacks will be provided.
105 Minutes (approx.)

Tour of Saddlerock Ranch & Vineyard

Visit animals

Meet Stanley the Giraffe

Taste 6 wines: 3 whites and 3 reds (1oz)


Ages 21+